Tim Paulson
crossfit
Ithaca, NY
Tim grew up in Pennsylvania, where he played hockey competitively through high school before graduating from Ithaca College, which is where he discovered CrossFit. He was hooked from the start, and he and a friend opened a CrossFit affiliate together - Crossfit Pallas - in 2012, which is also when he started competing in the sport of CrossFit. He has qualified for the CrossFit Games every year since 2017, with a best finish of 14th. In his spare time, Tim loves traveling, hiking, reading, golf, and spending time with his family.
Owner Pallas Fitness & Forged by Zeus
4x Crossfit Games Athlete, 14th Fittest Man
Snatch PR: 303 lbs
Jerk PR: 405 lbs
5k Run: 18:45

Q: WHAT PIECE OF ADVICE WOULD YOU GIVE YOUR TWENTY-YEAR OLD SELF?
Practice patience more regularly in all of your pursuits. Also, start doing yoga and get a nutritionist - now.
Q: WHAT LESSONS HAVE YOU LEARNED FROM FITNESS THAT HAVE SERVED YOU THROUGHOUT YOUR LIFE?
Training has taught me that consistency, attention to detail, and being open to discomfort is the path to change and ultimately, success; and this applies as a business owner, a husband, and a father.
Q: WHAT KEEPS YOU MOTIVATED?
My desire to leave a legacy of devotion to my craft, passion for those I love, and a being a person with a relentless work ethic to be the best version of myself.
Q: WHAT'S THE ONE WORKOUT YOU ALWAYS DREAD? WHAT'S THE ONE WORKOUT YOU ALWAYS LOOK FORWARD TO? WHY?
I view every piece of training, and every day, as an opportunity to get better. If I had to pick one workout that give me anxiety, it would be all out machine sprints - they hurt really good. I also look forward to them the most, though, because they are the penultimate 'turn off and send it' opportunity.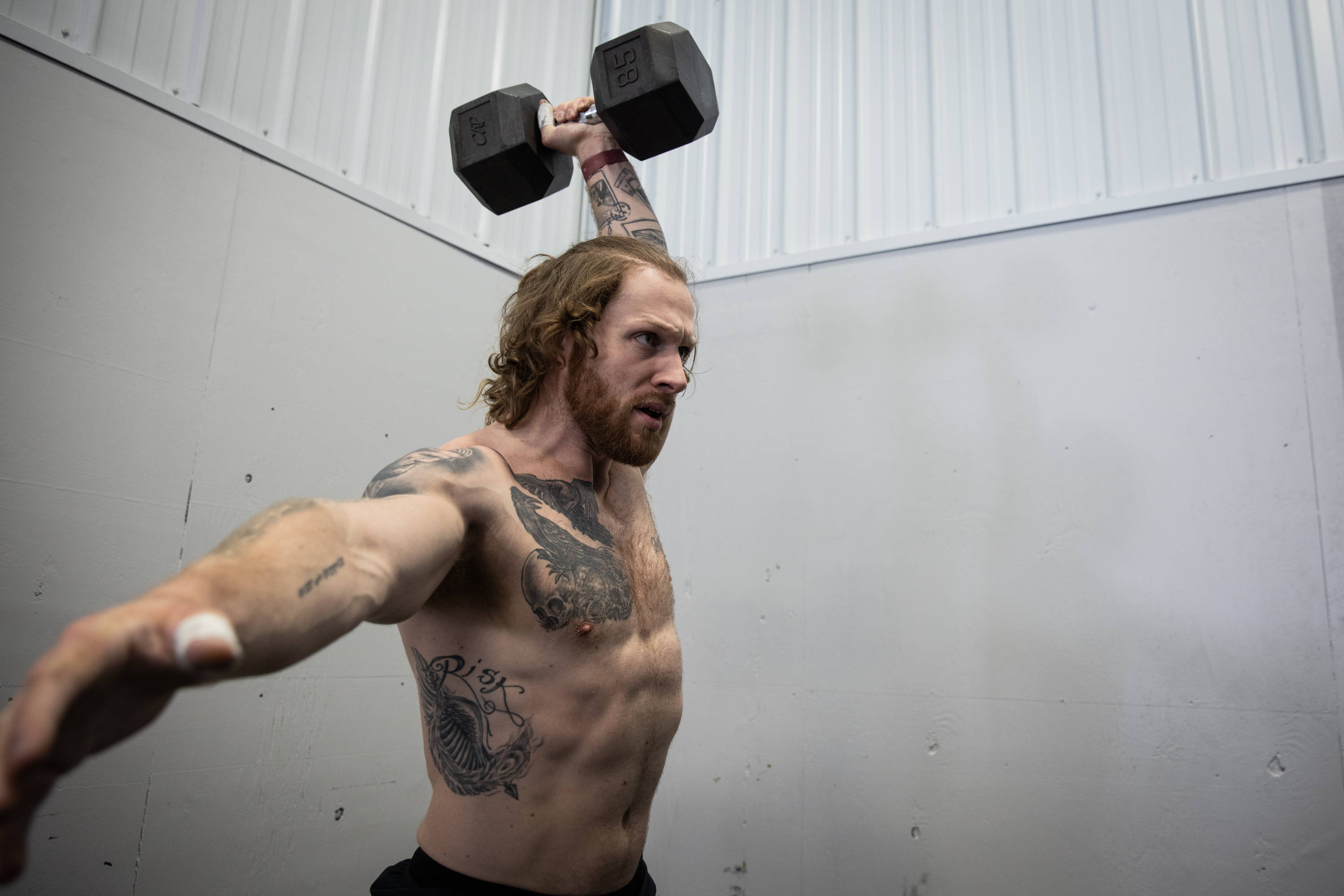 Q: WITH ANY NEW MODALITY YOU GET INTO, HOW DO YOU APPROACH IT IN ORDER TO MASTER?
Basics, basics, basics and then when I'm done...some more basics. I've applied this to every skill I've tried to master in fitness, and to my passion pursuits like golf. We cannot ever see ourselves as 'above' any piece of a task, regardless how advanced we become. I believe that the most successful people are the ones who appreciate the boring basics of a pursuit.
Q: DO YOU HAVE A FAVORITE FAILURE? HOW HAS THAT SET YOU UP FOR LATER SUCCESS?
Undoubtedly my performance at the 2019 CrossFit Games, where I failed to make the first cut that year. I was my fittest ever, but a lack of performance on game day and attention to the details leading up to it shuttered the opportunity to put my training to the test. I remember each second of the workout like it was yesterday, what each failed rep felt like, and the crushing defeat and feelings of utter disappointment that followed in the days after. That whole experience revealed to me how badly I want to succeed in this sport, and the strength of my character, and paved my path forward more than any other singular event in my life.
Q: WHAT IDEA, PERSON OR BOOK HAS BEEN THE MOST INFLUENTIAL IN YOUR LIFE? WHY?
Daily Stoic by Ryan Holiday. I've always been a huge fan of Stoic philosophy, and this book highlights nearly all of my favorite writers and pieces of it. I've found reading the book regularly helps keep me focused and purposeful.
Q: HOW DO YOU EMBRACE THE "BETTER THAN YESTERDAY" MINDSET IN YOUR DAY-TO-DAY?
My entire existence, and especially my career as an athlete, revolves around the concept of doing small things well, day in and day out, in order to become the best version of myself possible. Becoming better than the me I was yesterday is a core tenet of who I am.
Meet More Captains

crossfit
Fallon, NV

crossfit
Redmond, OR
crossfit
Edmond, OK